Event – Conference – Training – Meeting
Your conference hotel in Blaubeuren
Perfect organisation with professionally equipped rooms.  Whether hosting conferences, events, training or meetings our event planners will ensure an attention to each minor detail, allowing the event to run smoothly. We offer an ideal environment for events up to 1500 guests. Our selection of different rooms gives you many options, such as dividing teams into your own rooms.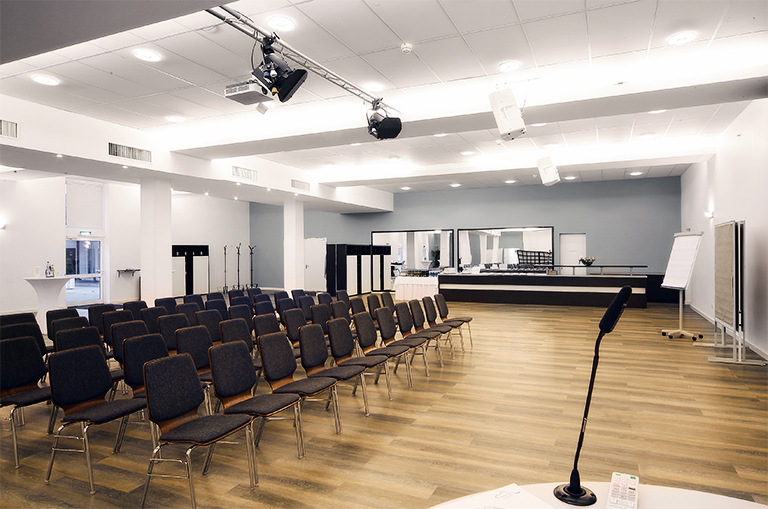 REVIEWS
Impressions of our guests
"Bedanken wollen wir uns bei ihrer tollen Gastfreundschaft, dem hervorragendem Service, der guten Ambiente, alle unsere Anregungen, Wünsche und Fragen wurden zur vollsten Zufriedenheit erledigt. Wir haben uns auf der dreitägigen Klausur sehr wohl gefühlt und kommen gerne wieder.

Mit freundlichen Grüßen aus Geislingen"

J.P. für den Betriebsrat der WMF Group GmbH
" Es ist zwar schon einige Wochen her, doch für ein positives Feedback gibt es kein Verfalldatum! Die professionelle Zusammenarbeit mit Ihnen im Vorfeld, die perfekte Durchführung und die in jeder Beziehung angenehme Atmosphäre am Veranstaltungstag haben nicht nur uns, die Veranstalter begeistert.

Nicht weniger positiv ist die Resonanz sowohl des Referenten, Herrn Dr. Diether Reusch, als auch der teilnehmenden Zahnärzte und Zahntechniker. Diese Rückmeldung geben wir gerne mit einem großen DANKE an Sie weiter.

Gerne werden wir uns wieder an Sie wenden, wenn eine Veranstaltung/ein Event ansteht, denn jetzt wissen wir,
dass der Untertitel Ihres Logos stimmt: event – erfolg – erlebnis!"

Ivoclar Vivadent GmbH
"Von der detaillierten Absprache im Vorfeld bis hin zur Durchführung hat alles perfekt geklappt.

Alle Mitarbeiter vor Ort waren außerordentlich freundlich und hilfsbereit. Die Räumlichkeiten bestens vorbereitet und spontane Änderungswünsche von unserer Seite wurden sofort gelöst. Ein Highlight war unser BBQ im Innenhof des Tagungszentrum, sehr gute Speisen und ein toller Service.

Wir können das Tagungszentrum absolut weiter empfehlen."

Testbirds GmbH
" Vielen Dank für Ihre Betreuung. Die Veranstaltung war für uns ein großer Erfolg. Wir haben viel Lob bekommen. Einen Teil des Lobs betrifft die Lokation und das Essen. Vielen Dank an Ihr Team für das leckere Essen und den Service."

Deutsche Bank AG
OUR CATERING
Culinary highlights
Use our experience
Eating and drinking keeps body and soul together. We have experience with a wide variety of groups and occasions and have developed standards from this.
For events und leisure
Whether 500 young people should be taken care of in the shortest possible time during a holiday, or whether the meal is to be part of your event, we are happy to fulfill your wishes.
For conference und seminars
In den Tagungspauschalen als Teil- oder Vollverpflegung enthalten bieten wir Ihnen gerne leichte Mahlzeiten an und freuen uns auf Ihre Wünsche um alles mit Ihnen abzustimmen.
For anniversary
As part of your event we will make your culinary highlight an experience according to your ideas.